Fit for the Future Executive Coaching
In every business environment, be it the personal, team or entire organisational context, we continue to witness increasing levels of complexity and change. These forces continue to reshape our organisational contexts on a daily basis. Let's face it, the world of work is changing.
Despite these ongoing changes, many of our approaches to leadership and professional development remain firmly locked in the past. Recent global studies are clearly indicating that, leaders that focus on doing more or less of the skills they already have, are falling behind at a rapid rate. The approaches, models and theories taught in most business school are now obsolete. The new global message is simple, leaders that cannot adapt and learn new ways of working, will not survive the new world of work.
My Approach to Executive Coaching
My approach is simple, I assist high potential and high value leaders to prepare for the new world of work.
I use the most up to date approaches leveraged from some of the world's most progressive organisations to reshape the way you see and experience the business and organisational landscape.
I challenge all of my clients to experiment and rewrite not only their personal leadership operating system but their team and organisational systems around them as well.
Leaders that I work with, complete their coaching programs, inspired by what's possible.
The Process
Introduction - We meet for 1 hour to decide if what I offer is right for you (rest assured, the way I work is not for everyone, it is challenging.)

Decision - We commit to working together for 6 or 12 Months and plan your session spacing. Note: I usually only work with 10 high value clients per year

Session 1 - We co-create your Executive Strategy Map. This map sets out your goals and development in a similar way as the OKR's that Google use to measure performance and value.

Sessions 2 - 8 - We meet for our sessions based on your spacing - I use an agile agenda system to facilitate our coaching sessions. It's as much workshop as coaching session as this includes tracking your progress on your map and setting developmental goals and new experiments.

Closure Session - We finalise your development looking forward and reflect in the journey and its milestones.
The Benefits and Outcomes of Fit for the Future Coaching
Increase your capacity to work in and with increasing levels of global complexity.

Become a change leader in your organisation.

Develop the skills to ensure your pathway to your next higher paid role.

Be ready to lead the future of work in your organisation.

Stand out from the crowd with new skills that set you apart from everyone else in your business or organisation.

Learn the fundamentals of new work practices such as Agile, Lean and genuine systems thinking.
Are you ready for the next step in your professional evolution?
If the answer is "yes", you can get in touch with me here.
Upgrading your Organisational Operating System
In-house Programs
Despite the fact that the industrial revolution stands firmly behind us, many organisations still remain fixated on outdated way of working.
Today, however, the global revolution is under way. Many organisations are now realising that, traditional ways of operating is severely limiting their ability to respond to the constantly changing world. Many organisations are now exploring the transition to the new world of work and Agile ways of working. In order to assist organisations with this shift into the Future of Work, I offer the following in-house programs:
Strategic Horizons - A strategic primer for the creation of a progressive organisational shift (1 day) - A single day strategy workshop designed to reset executive teams' understanding of the global climate. This workshop explores the strategic drivers currently impacting organisations. These drivers include the increasing rate of complexity and change, increasingly levels of technological change and constantly changing customer demands.

The Future of the Workforce - Winning the Talent War (1 day) - A single day workshop specifically designed to assist HR teams and professionals to explore the emerging trends in talent and internal human resources. This includes new approaches to talent identification using vertical development, implementing the fundamentals of Agile, Scrum and Lean in a Human Resource Context.

The Change Leaders Program - An agile approach to leadership (2 days) - This 2 day in-house program is designed to prepare middle and senior leaders to guide their organisations into the future. This program includes exploring and integrating the Six Core Trends of Progressive Organisations, increasing levels of Transparency, Distributed Decision Making, The Fit for the Future Framework, Vulnerability, Design Sprints and Innovation. All facilitated in action learning format to enhance practical application in the real world.

If you would like to know more about any of these programs and how they can change the way you work, you can get in touch here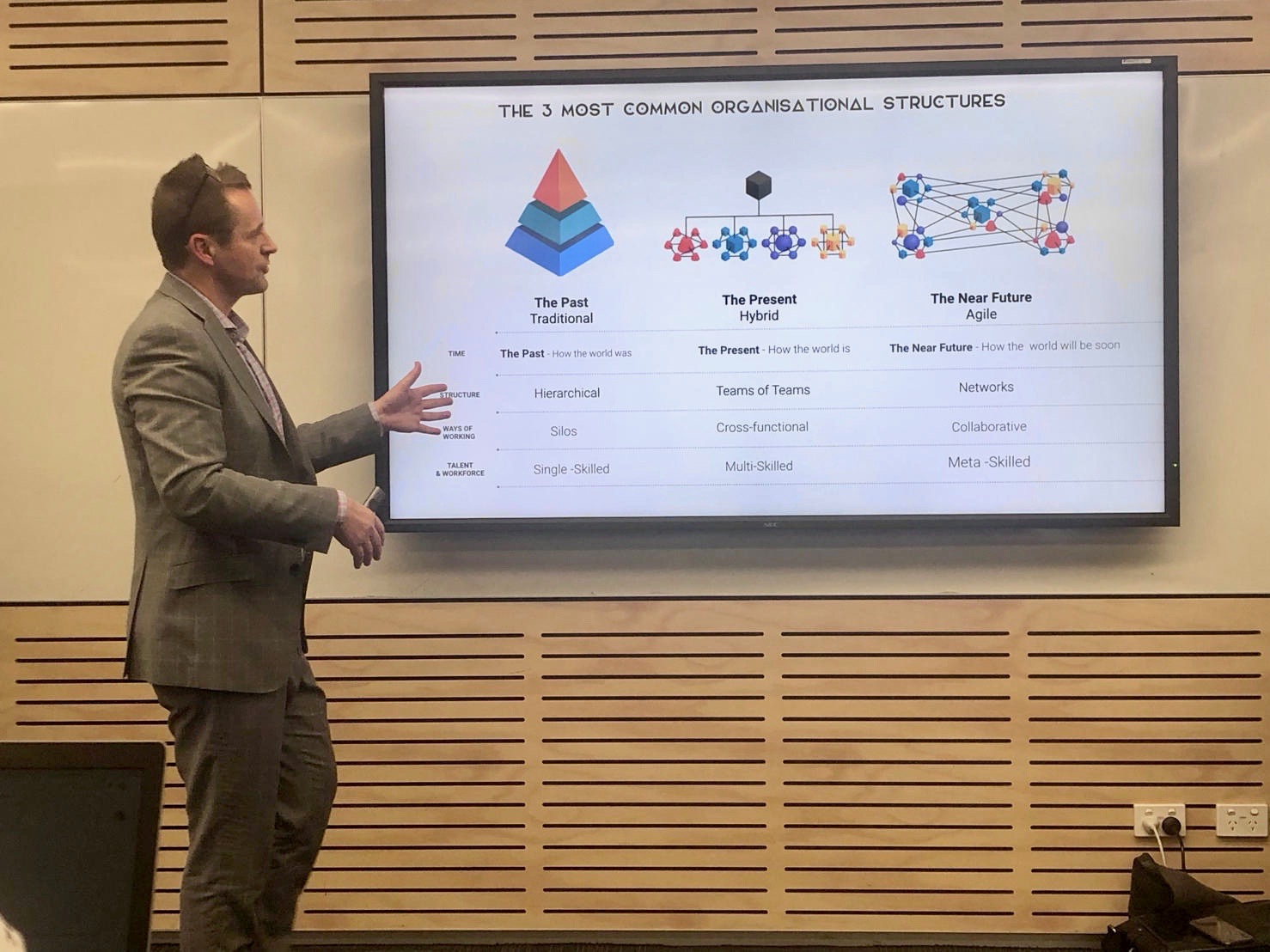 Bespoke Solutions & Consulting
Crafting a new kind of normal
Sometimes, something out of the box just won't work for your organisation. You might be already on your journey and just need something extra to bring all the pieces together or you might be embarking on a transformation journey.
This means you might need an intervention crafted specifically for you and your organisation. I use the concepts, models and approaches from some of today's most progressive organisations like Google, Spotify and Amazon to build a new kind of normal for organisations. I works closely with internal sponsors and partners to co-create purpose driven outcomes that allow organisations to shift to the next level of operational and strategic performance. Some examples of recent work include:
Executive team off-sites

Leadership assessment and debriefing

The future of work consulting

Work force modernisation

Workforce planning

Human resource department restructure

Customised leadership development programs

Digital operating model creation

Digital Strategy creation
Digital transformation design

Culture development

Developing organisational principles

Individual executive coaching

High value team development

Innovation model implementation and design

Leadership strategy design

Mindfulness leadership program

Working in complexity program
Are you ready for a new kind of normal?
If you would like to upgrade your organisation and prepare for the future of work you can get in touch here.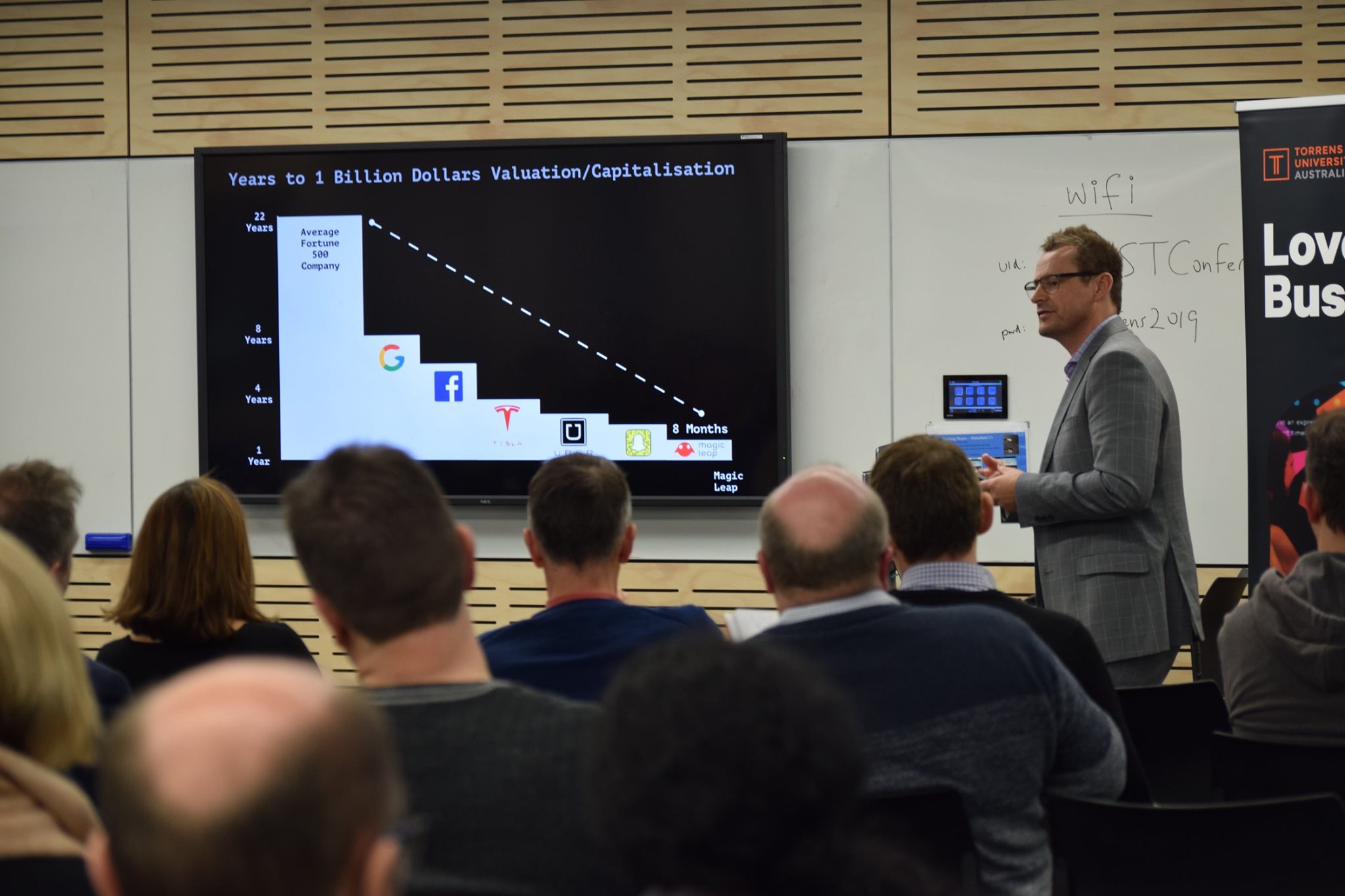 Are you ready for the Future of Work?
The 6 Traits of Progressive Organisations
The rate of technological driven change is increasing daily and almost every organisation is under rising pressure to try and keep up. Everywhere I go, the challenges and tensions seems to be the same:
Inboxes overflowing with unread email

Back to back meetings and calendars with no space for employees to do the work they are actually employed to do

Projects over time and budget

Increasing silos and a lack of individual, team and organisational communication
Despite these increasing global and technological pressure, some organisations are thriving.
This 45 minute presentation covers the following topics:
Changes in the global business climate

The effect of technology on organisations

A list of organisations that are thriving in the increased uncertainty

The six key trends that are common throughout these progressive organisations

Some key experiments that every organisations can try to transform towards new ways of working
If you're interested in hearing how to use these 6 trends to upgrade your organisation and prepare for the future of work you can get in touch here.